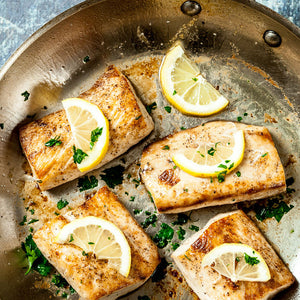 A quick and easy way prepare Mahi Mahi is a simply pan-sear, that lets the flavors and flaky texture shine. Searing it in a pan also lets you make a buttery, lemony sauce to drizzle all over the fish. Slice and juice the lemon. Cut half the lemon into thin slices. Juice the remaining half, you should have about 1 1/2 tablespoons of juice; set both aside. Season the mahi mahi. Pat the mahi mahi dry with paper towels. Season all over with 1 teaspoon of the salt and a few grinds of pepper. Pan sear the mahi mahi. Heat the oil in a...
---
We just unloaded black cod on this beautiful Sunday morning! There are many reasons to love black cod, from containing some of the highest levels of Omega-3 to its rich buttery flavor and silky texture to  knowing it is sustainably fished throughout the year.   Looking for a black cod recipe? Just One Cookbook has a step by step guide for  making Nobu's famous Miso Cod! As you can see from the below recipe, its super easy to make and a fantastic meal any day of the week!   INGREDIENTS 4 fillets sablefish (gindara) (about 1 inch (2.5 cm) thick; you...
---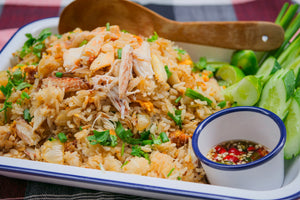 Recipe adapted from Serious Eats  Ingredients 2 tablespoons vegetable oil, divided 2 cups cooked white or jasmine rice (see notes) 1/2 pound green beans, trimmed and cut into 3/4-inch pieces  1 medium yellow onion, diced  2 medium cloves garlic, minced  1 to 3 Thai bird chilies (adjust according to taste), thinly sliced, plus more for serving 1 teaspoon soy sauce 1 teaspoon Asian fish sauce, plus more for serving 1 large egg Kosher salt 1 ounce (30g) roughly torn Thai or sweet Italian basil leaves 1/2 lb crab meat...
---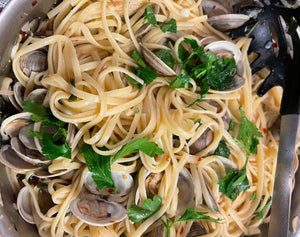 An easy and comforting pasta dish in 30 minutes