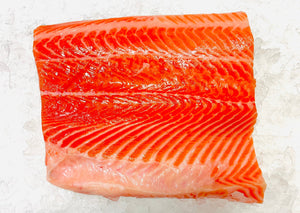 Norwegian Fjord Ocean Trout - Fillet (Norway) - avg 1 lb
Regular price
$17.99
/lb
$0.00
Unit price
per
Skin on, avg 1 lb per fillet
Also known as steelhead trout, Fjord trout are raised in the cold waters off of Norway's west coast, just north of Bergen. Because of the cold, the fjord trout grow slowly and are allowed to develop fully. This makes them especially succulent and flavorful.

This farm produces Fjord Trout exclusively and is fully integrated, meaning they have control over the fish through their whole lifecycle, from the hatchery all the way through to processing and packaging.

Fjord trout has a finer and more intricate flake than salmon, has a bright red color and a perfect fat content.
Origin: Norway, ASC Certified, Global GAP Certified
---